Rolling Chairs for Any Office!
We have a vast amount of office chairs for you to buy whether you're looking for your personal office or even for professional waiting room chairs.
Take a seat and try it out for yourself! We have various name brand chairs, including Tempur-Pedic memory foam and Union & Scale Mesh. We have chairs with features like memory foam, lumbar support, and adjustable seats and back to bring you the most comfort while you work.
At 50% off the retail price you can own premium quality furniture at a fraction of the price at large retailers. So come check out our selection of office chairs and get yourself 100% of the comfort you deserve, at half the price.
Desks Galore!
Find the perfect fit for your home office or business by picking out a sturdy office desk for your conference room, personal offices or employees! Looking for a desk that you can run cables through for your computer? We've got those! Need an easy to move desk that's both sturdy and simple to disassemble and reassemble? We've got those, too! Browse our extensive inventory to find the perfect addition to career!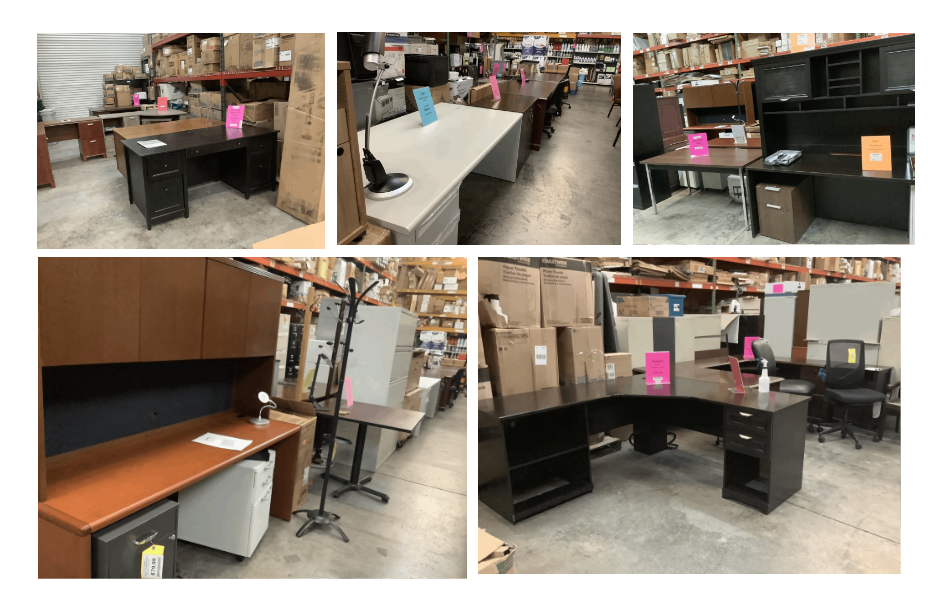 We have an enthusiastic store staff that will be more than happy to walk you through and answer any questions you may have about our office furniture! Come by soon to take advantage of our selection; but always remember that all office supplies and furniture (including desks) are 50% off guaranteed!