Tanning Stickers, Assorted Styles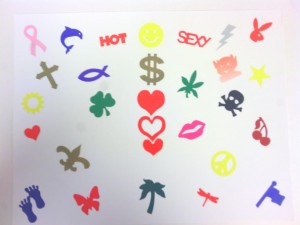 Tanning Stickers are a great way to measure the progress of your tan. Simply take one along each time you go tanning and apply it in the same spot everytime. You will be able to see exactly how tan you are getting, it's hard to tell without them!
Can also be used for sticker-fun!
Choose From:
Pink Ribbon
Butterfly
Playboy Bunny
Hemp Leaf
Devil
"SEXY"
Dragonfly
Heart
Palm Tree
Lightning Bolt
Cherries
Feet
Dolphin
"HOT"
Shamrock
Pirate Skull
Dollar Sign
Flag
Smiley Face
Peace Sign
Star
Fish
Cross
Sunburst
Hot Lips
Saints
3-Part Heart*
Assorted
Buy 100 Stickers For $2.99
*To make "3-Part Heart" two stickers must be used, yielding 50 applications per 100 stickers.