Swingline Stack-and-Shred 250X Shredder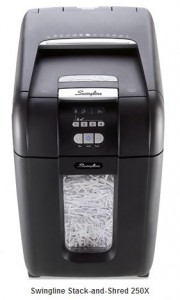 Swingline Stack-and-Shred 250X
RETAIL PRICE: $1,100
OUR PRICE: $450
Security Level: 3
Shred Type: Cross Cut
Category: Departmental
Shred Size: 1/4″ x 1 1/2″
Sheet Capacity: 250 Auto/8 Manual
Shredder Speed: 10 ft/min
Bin Size: 11 Gallon
Throat Size: 9″
Dimensions (HxWxD): 25.39″ x 13.90″ x 19.02″
Swingline Stack-and-Shred 250X cross cut shredder a small scale usage shredder suitable for up to five consumers. The 250X shredder can automatically shred a total of 250 sheets in a single shred cycle. It is a security level-3 shredder with a cross cut particle size of 1/4 inches. Swingline 250X has a wide feed opening of 9 inches and it can shred at the speed of ten feet per minute. The Swingline 250X cross cut shredder comes patented with the hands free Auto+ technology which enables the shredder to feed in the papers automatically.
The Swingline Stack-and-Shred 250X features a 4 digit PIN lock that secures the shredded material from unauthorized access. In addition, this 250X shredder comes with the automatic jam clearance and super quiet performance that further compliments its features. The Swingline Stack-and-Shred 250X can slice through plastic, paper clips, staples. This Stack-and-Shred shredder holds a separate slot for optical media shredding. Its Self clean™ feature clears any shredded remains from the blades automatically. The shredder boasts a waste capacity of 11 gallons alongside a bin indicator that signals when the waste bin fills completely.
Shreds 250 pages in a single shred cycle.
Hands free Auto+ Technology for automatic paper feed function.
Jam Free Paper Shredding.
Secure pin combination prevents access by unauthorized individuals.
Automatic cleaning of blades removes dangerous particles that would harm the blade.
This item is available for LOCAL PICK-UP only. (Please read here for more details.)