Standing Desk Converter, Victor High Rise DC200 Adjustable Stand Up Desk Converter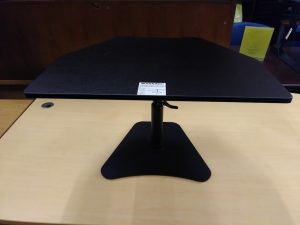 Standing Desk Converter, Victor High Rise DC200 Adjustable Stand Up Desk Converter
The Victor Technology stand-up desk converter is the perfect tool for creating stand-up desks
Use this Victor Technology desk converter to effortlessly turn your existing sit-down desk into a stand-up desk. Thanks to the converter's simple design, you only need to place it on top of your desk and adjust the height to reach a comfortable working height. This desk converter has a work surface large enough space to accommodate your peripheral devices, phone and accessories. The work surface rotates, so you have the flexibility to move around your space while maintaining access to your work station.
Adjustable stand rests on top of existing desk to easily convert traditional desk to standing desk
Adjusts to heights between 12″ and 16.75″ with a gas strut for easy customization
Made of wood finished with a laminate coating for durability with a heavy steel base for stability
Rotating work surface allows freedom of movement with an optional clamp to prevent rotation
Large work surface accommodates computer peripherals, phone and other items for a convenient work area
Notches in the back provide cable and cord management for a clean, organized workspace
Tapered back portion fits easily into a corner or cubicle for flexible use
Transforms any sit down desk into a stand-up desk
Easily place your keyboard, mouse, phone and accessories all on one surface
Work surface rotates to promote more movement, but can be locked with included clamp if not preferred
Made from wood and durable laminate coating to provide years of use
Easily raise or lower the desk surface with the gas strut design
Raise or lower the desk surface to the perfect height with the custom height lever
Heavy steel base prevents tipping
Use with the DC050 Monitor Stand for a more ergonomic experience
Add a whole new dimension to your workspace with this Victor Technology desk converter. Giving you the option to stand at your desk and work on your PC in a comfortable and ergonomic manner, this desk converter is perfect for incorporating a little more movement into your daily routine. The gas strut design makes it easy to raise or lower the surface depending on your height preference, and the curved shape adds a modern touch to most desk environments.
Easy To Use
Set this high-rise desk converter on your current desk or any flat surface you prefer to work on. Simply press the gas strut lever, and this converter effortlessly repositions itself to your desired height. This adjustable desk converter is ideal for more than one user by easily raising or lowering the surface to accommodate the new level between 12 inches and 16.75 inches. With the ability to rotate the work surface, you are able to move around your area freely and comfortably, making it convenient to do other things.
Strong and Stylish
Designed to work with you, this converter boasts a sturdy wood construction that is capable of supporting your keyboard, mouse, personal devices and your monitor all in a spacious manner. To offset the wooden design is a heavy steel base to augment the support of this frame and to prevent accidental tipping. This piece features a laminate coating that adds a professional appearance, as well as protects the wood from scratches and dents that would otherwise mar its beauty.