Safe T Sorb Oil Dry Absorbent 40lbs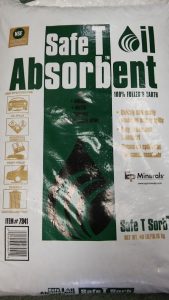 Safe T Sorb Oil Absorbent 40lbs
Safe T Sorb® is made of premium calcined clay all-purpose absorbents designed for the quick clean up of water, oil and grease and made from Montmorillonite Clay, a naturally occurring mineral with superior absorptive ability.
Benefits:
Quickly and easily soaks up messy spills.
Provides more absorption for the money.
Cleans up spills that can cause accidents.
For use in work or home environments.
Easy to use and transport.
Environmentally friendly.
100% Natural mineral.
Granulation – Coarse.
Uses:
Oil Spills
Industrial Chemicals
Paint Spills
Traction In Snow, Ice, & Mud
Controlling Problem Odors
Compare At: $7.99
Our Price: $3.99
REDUCED-NOW ONLY: $2.99/Bag!
HURRY-ONLY 39 BAGS LEFT!