Rubbermaid Smoker's Pole Outdoor Cigarette Ash Tray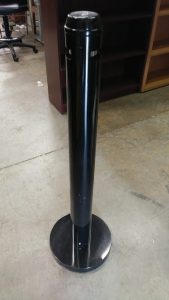 Rubbermaid Smoker's Pole Outdoor Cigarette Ash Tray
For space-saving convenience, outfit your smoking area with this smoker's pole! Engineered to withstand outdoor use, the unit makes disposing of cigarettes easy, clean, and safe. Its fire safe design prevents fires before they start, and the push button is centrally located to reduce the need for uncomfortable bending. Plus, it's handicap accessible, guaranteeing that your facility caters to all employees, customers, or guests.
Space-saving design for convenient cigarette disposal
Oxygen-restricting design
Weather resistant and UV stabilized
Easy to empty
Great for high-traffic areas
Made of durable aluminum
Uni-Koat powder-coated finish
Dimensions:
41″H x 12-3/4″D
Compare At: $199.99
OUR PRICE: $99.99
Shop A & M, where you can find Closeouts For Less!