Pine-Sol All-Purpose Cleaner, Lavender Clean, 144 Oz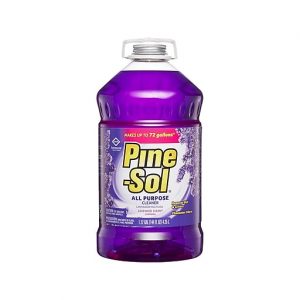 Pine-Sol All-Purpose Cleaner, Lavender Clean, 144 Oz
*Limited quantities of other scents also available, including Orange, Lemon, & Original Pine Scent.
Pine-Sol Professional Multi-Surface Cleaner, Lavender Clean, helps you keep your entire house or business clean with a pleasant Lavender Clean scent. This multi-surface cleaner cuts through the toughest dirt, grease and grime. Use Pine-Sol Multi-Surface Cleaner to keep your entire home, from the kitchen to the bathroom to the garage, sparkling and smelling clean. That's the power of Pine-Sol.
Cuts through tough stains dirt, grease and grime
Heavy-duty dilutable cleaner for the pro and all general cleaning needs
Ideal for use on floors, sinks, counters, bathtubs, shower stalls, tile and more
Use throughout your entire home or business
Compare At: $10.99
OUR PRICE: $5.49
Shop A & M, where you can find Closeouts For Less!