Keurig K140 K-Cup Coffee Brewer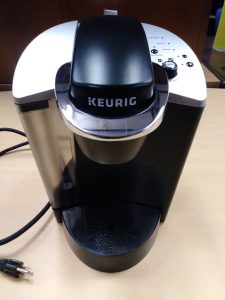 Keurig K140 Commercial K-Cup Coffee Brewer
ABOUT
First cup. Fourth cup – with Keurig®, it's always a fresh cup.

The Keurig® K140 Commercial Brewing System brews a perfect cup of coffee, tea, hot cocoa, or iced beverage in under one minute at the touch of a button. This brewer has a 48 ounce easy-to-fill water reservoir, the choice of three cup sizes, and a removable drip tray to accommodate travel mugs. It is the ideal choice for smaller businesses.
Keurig® Single-cup brewing system has a flip switch to drain the tank & a auto-off switch to turn off the system after 2 hrs when switched. System features a 48 oz removable reservoir for easy installation & has a 6 oz/8 oz/10 oz brewing capacity.
Energy-saving mode
Automatic on/off function
Brewer speed – brews in under 3 minutes
Refillable water reservoir – 48 oz. capacity
3 cup sizes (6oz, 8oz, and 10oz)
How Does the K-Cup® Pod Work?
Oxygen, light and humidity are sealed out to ensure freshness
Pressurized water is forced through the K-Cup® pod at the ideal brewing temperature
Coffee Roasters specify the exact amount and grind of a given coffee
A premium paper filter provides optimum flavor
No residual coffee left behind to affect the flavor of the next cup
Compare At: $129.99
OUR PRICE: $64.99
Shop A & M, where you can find Closeouts For Less!