Gear Up Against The Flu At A & M and Save $$$!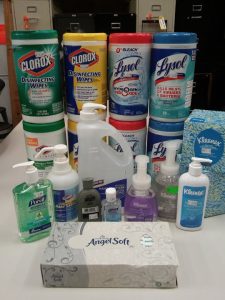 Well, its that time of year again, when everyone is getting sick with a cold, or even worse-the flu! The CDC has issued statements that we are already in the middle of the worst flu season in years, and that it could likely shape up to be the worst flu season ever!
That being said, its time to gear up against the flu by getting a flu shot, but don't forget the disinfectant! Guard yourself and your loved ones against all of those nasty germs by gearing up with disinfectant sprays & wipes to kill germs on surfaces, hand sanitizer to keep germs off of your hands, and its a good idea to always have a supply of facial tissues on hand-just in case.
But don't forget-you can save big bucks if you buy all of your supplies from us! Check out some of these deals:
Clorox or Lysol Wipes, 75-80ct: Compare At: $5.49+ OUR PRICE: $2.75
Lysol Disinfectant Spray, 19oz: Compare At: $5.99+ OUR PRICE: $2.99
Purell Advanced w/Aloe, 12oz: Compare At: $5.99 OUR PRICE: $2.99
Purell Advanced Pocket-Size, 2oz: Compare $1.99 OUR PRICE: $0.99
Kleenex Brand Tissues Cube: Compare At: $1.99 OUR PRICE: $0.99
And many, many more deals can be found in store-too many to list here-all for half of what you would pay elsewhere!