Contemporary Blue Vinyl Barstools, Set of 2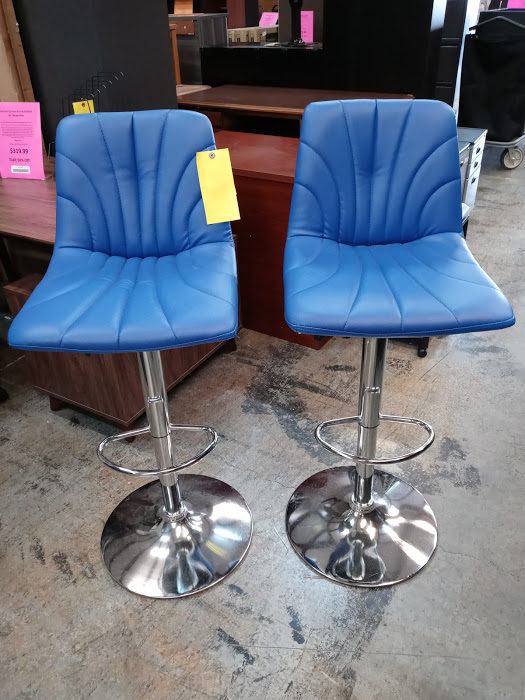 Flash Furniture Contemporary Mid-Back Blue Vinyl Barstools w/Chrome Base, Set of 2
The curved quilted details and contemporary style make these barstools a sophisticated addition to your kitchen or casual dining area. It features line stitched mid back, adjustable height and vinyl upholstery that stands out. The swivel seat adjusts from counter to bar height with the handle located below the seat. The chrome footrest supports your feet while also providing a contemporary chic design. To help protect your floors, the base features an embedded plastic ring.
Features:
Vinyl Upholstery: Durable and relatively easy to clean, vinyl upholstery fabric is affordable and comes in a variety of colors and textures. Vinyl upholstery fabric is both durable and waterproof.
Stitched Detailing: It's nice to be able to look at something and get a sense of the work involved. So take a look at and appreciate this furniture's visible stitching—for a complete feel of the experience. 
Pedestal Base: Give importance to the top and the contents above it with the beautiful pedestal base on this furniture piece. The top is firmly supported by a single structure.
Adjustable Seat Height: Adjust the height of the seat for the position that suits your comfort.
Chrome Base: Supported by a material that does not only resist tarnishing but also gives out a lustrous look.
Swivel: Installed with a swivel mechanism that allows the seat to rotate 360 degrees whenever you want to go for a spin.
Features:
Mid-back design
Contemporary style
Base diameter: 17.625″
CA117 fire retardant foam
Exposed embellished stitching
Designed for residential use
Height adjustable seat with gas lift
Seat adjusts from counter to bar height
Compare At: $149.99
OUR PRICE: $74.99
Shop A & M, where you can find Closeouts For Less!