Christmas Tree Stands For Live Trees $14.99~$19.99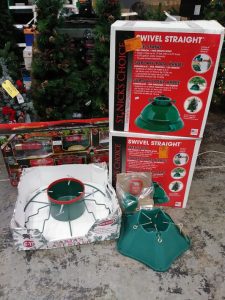 Not interested in artificial trees, no matter how realistic they are? No problem-you can still save money on your tree stand by shopping with us!
Currently 3 Models in-stock to Choose From:
---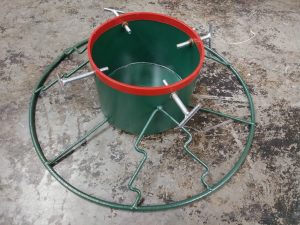 Santa's Last Stand Metal Hi-Water Capacity Stand for 6′ to 11′ Trees
This Metal SLS-9HC Hi-Water Capacity Tree Stand from Santa's Last Stand offers the ultimate stability. Designed for trees up to 11 ft., the 22.5 in. round ring design makes the stand tip proof with positive 360-degree support. The generous 1.65-gallon water capacity keeps your tree fresh smelling for longer. A big, 9 in. opening and four, heavy-duty tightening T-bolts makes assembly a snap.
Durable new design for trees 6 ft. up to 11 ft.
Keep trees fresh and fragrant
Extra-large water capacity
Advanced no-tip design with 360-degree support
Compare At: $29.99
OUR PRICE: $14.99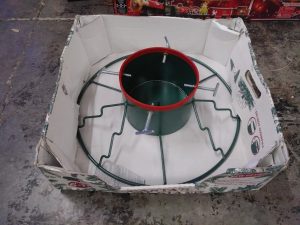 ---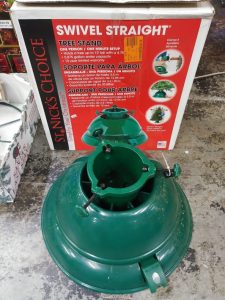 St Nick's Choice Swivel Straight Tree Stand For Trees Up To 10 ft
Easy to use, the heavy-duty Swivel Straight Plastic Tree Stand can be assembled by just one person. Simply clamp the tree trunk onto the removable trunk receptacle, then swivel the tree straight using the retractable pedal. A 20 in. base diameter adds stability for trees up to 10 ft. tall, while sturdy rubber feet keep the tree stand in place. Your tree is up and in place within seconds.
Impact-grade polymer construction won't crack or rust
Holds a tree up to 10 ft. tall with up to 4.75 in. diameter
Includes drain slots and reservoir holding up to 3.5 quarts of water
Easy, 1-person assembly
Compare At: $39.99
OUR PRICE: $19.99
---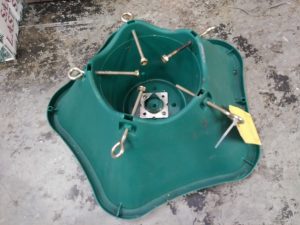 Resin Tree Stand For Live Trees Up To 8 ft
Ensure your Christmas Tree stands securely with our Oasis Resin Tree Stand for live trees up to 8 ft. tall. It has 5 eye bolts and steel end caps to require less bare trunk for easier trimming and a 1.3 gallon water reservoir.
Designed to support trees up to 8 ft. tall
Sturdy resin construction provides solid support
Holds up to 1.3 gallons of water to keep your tree hydrated and fresh
Includes 5 eye bolts and 5 steel end caps to keep tree secure
Easy to set up with no tools required
Compare At: $14.99
OUR PRICE: $7.49 SOLD OUT!
Shop A & M, where you can find Closeouts For Less!