Avanti 16 Bottle Wine Cooler, Black, Reversible Glass Door (EWC1601B) – $49.99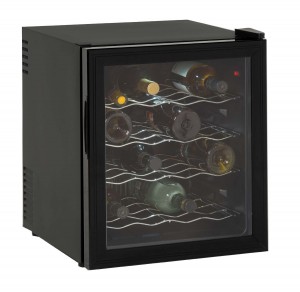 The Avanti Thermoelectric Countertop Wine Cooler stores up to 16 bottles of wine and features quiet operation and no vibration noise. Build from durable, high quality materials the Avanti EWC1601B features cutting edge thermoelectric technology and auto defrost. This wine cooler is equipped with slide-out chrome shelves for easy cleaning and accessibility. A hidden, recessed handle keeps this wine cooler looking sleek and modern.
Adjustable Thermostat For Ideal Temperature Controlled Conditions
Unique State-of-the-Art Thermoelectric Technology
Solid state components for superior reliability
Recessed handle
Auto defrost
Thermopane reversible glass door
Soft interior lighting with ON/OFF switch
Slide-Out chrome shelves
17″ W 18-1/2″ D and 19″ H
New Scratch & Dent Models
$49.99
This item is available for local pickup only.
FURNITURE WAREHOUSE OPEN TO THE PUBLIC
MON- FRI 9:30 AM – 5:00 PM
WE ARE NOT OPEN SATURDAY OR SUNDAY
201 International Pkwy
Dallas, GA 30157
www.amofficesupply.com